Photo: 'Yellow slime mold' by Bernard Spragg
How can you can get started? We offer a spectrum of training that works with your available time, commitment and disciplinary needs. Who knows, perhaps you start with a lecture which can inspire you to take a full course. 
We also understand that it may be difficult to meet in person, therefore our training is offered with both in real life and online options. Feel free to get in touch with us if you have any questions.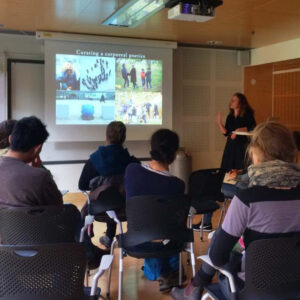 LECTURES
If you want a brief dip into biomimicry, we offer lectures, either online or in person. These serve as an introduction to the field before you decide to dive into more. Feel free to get in touch to schedule a lecture, or check our news page for events.
CONTACT US

NATURE-INSPIRED WORKSHOPS
Perhaps you would like a training course tailored to the needs of your team and/or company. We can design a workshop for your specific project where you use nature as inspiration to solve a particular challenge. Get in touch with us, so together we can figure out the best way to meet your needs.
CONTACT US

COURSES
Are you curious to take a course. Join us for a variety of courses available, from one-day to two-months, for a course that works with your pace, available time and disciplinary needs. We offer versions for both online and in real life learning.
UPCOMING COURSES